Content marketing has become one of the most widely used and important tactics employed in the B2B realm.
According to the latest report from the Content Marketing Institute, 88% of B2B organisations are now using content marketing, defined by the same body as "a strategic marketing approach focused on creating and distributing valuable, relevant, and consistent content to attract and retain a clearly defined audience – and, ultimately, to drive profitable customer action."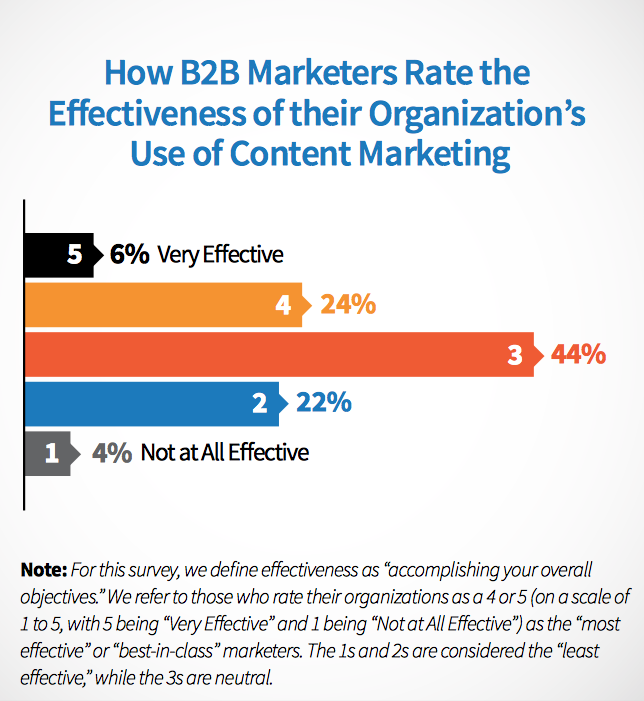 However, a big surprise from the report is that, despite these huge adoption rates, only 30% of B2B marketers rate their organisations' content marketing efforts as being "effective" – down from 38% in 2015.
Question marks are most certainly raised by these figures – only 30%? Why so few?
Well, as we continue to read through the report, some light is shed onto why so many B2B content marketers seem to be struggling with the practice.
Indeed, one of the most revealing stats that we can pull in this regard is the fact that a startling majority (55%) of B2B marketers are not actually clear as to what an effective or successful content marketing program looks like.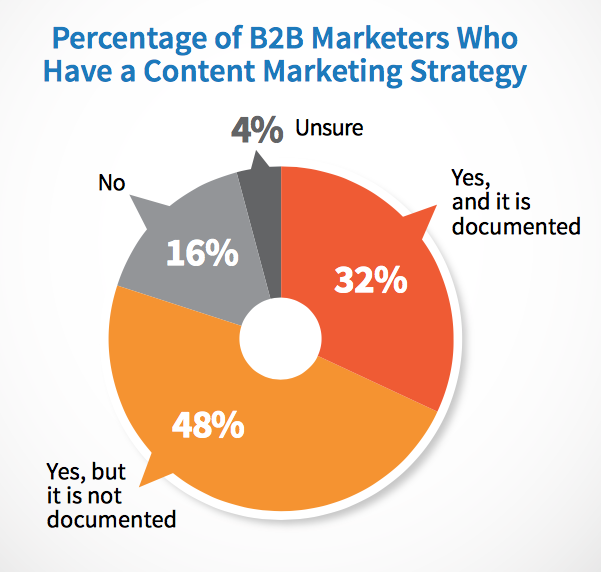 Here, we begin to see the problem. Without understanding exactly what the business goals are that one is trying to achieve, inevitably, confusion arises as to whether or not one has actually achieved them.
You'll be pleased and perhaps relieved to learn, however, that combatting such confusion by gaining clarity of purpose leads to success.
B2B marketers whose organisations have a clear vision of what content marketing success looks like are much more effective than those that do not:
79% of the most effective marketers have clarity
77% of the least effective marketers lack clarity
Further, the report reveals that effectiveness also increases when a content marketing strategy is documented, with 53% of the most effective marketers having a documented content marketing strategy (with 40% of the least effective marketers having no strategy, documented or otherwise, at all).
However, despite these findings, of all B2B marketers, only 32% have taken the organised and positive action of drawing up a documented content marketing strategy.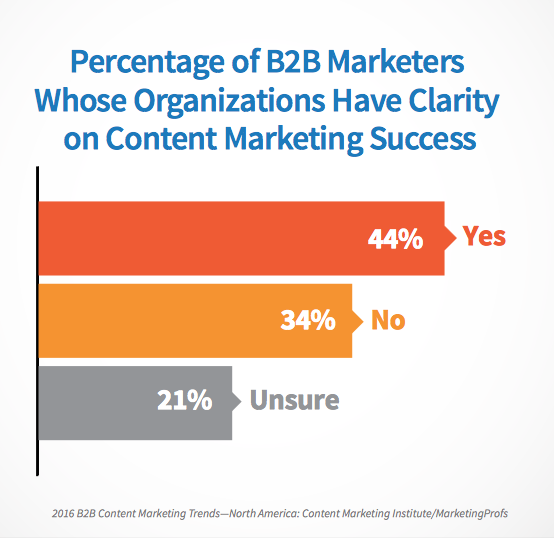 And so, the first conclusion that we can draw in answer to the question "What does an effective content strategy look like?" is that it is a documented one. As the report puts it:
"B2B marketers who have a documented content marketing strategy get better results from their content marketing tactics, social media platforms, and paid methods of content distribution (i.e., they rate them as more effective when compared with their peers who don't have a documented strategy)."
However, the question that naturally arises next is this: "What exactly should go into such a documented B2B content marketing strategy?"

Here, we have 5 key elements of an effective B2B content marketing strategy in answer to that question.
5 Key Elements of an Effective B2B Content Marketing Strategy
1. Goals
What are these?
An effective content marketing strategy will naturally consist of first the creation and then the promotion of quality, shareable content.
However, before you sit down and start penning your quality content, it's necessary that you work out exactly what you will be trying to achieve with it.
There are a number of outcomes that you can expect from content marketing campaigns – brand lift, lead generation, increased social media following, increased downloads of white papers and/or eBooks, more sales, etc. – though each will involve a different approach to content creation.
For example, if you are aiming to drive downloads of a white paper, then you may wish to create a blogging strategy that takes key snippets from the report and presents them in a range of "teaser" posts where users are encouraged to download the white paper to "find out more". If, however, you are looking to grow your social media following, then the blog posts and articles that you pen will be designed to appeal to a broader audience than those that would be interested in your white paper.
So, first, document your goals, and then move onto the next step.
2. Marketing Personas
With your goals set and documented, the next element to be formed in your content marketing strategy involves identifying your target audience.
The most effective and valuable way to do this is to create a list of marketing personas.
A marketing persona is simply a semi-fictionalised representation of the ideal consumer of your content. To decipher who these people are, the first step is to create a questionnaire which you will answer on behalf of your personas.
The questions may include the following:
Male or female?
Marital status?
Annual income?
Location?
Age?
Children?
Education?
Industry?
Career path?
Size of company?
Job role/title?
Seniority within company?
What are the tools/skills required to do your job?
Career aims?
What publications do you read?
Preferred social network(s)?
What's a typical day like for you?
Give each of your personas a name, and, using the results of your questionnaire, write a detailed profile that defines them.
For example, one persona might be Geoff, CEO of a warehousing logistics company. He is 45+ years of age, a graduate and enjoys a salary upwards of €65,000 a year. He has the chief buying power within his company and is always on the hunt for solutions that will increase productivity while reducing costs. He spends time networking on LinkedIn, but will only invest time reading research reports and white papers when he is convinced beforehand that the information within would be valuable to his company and his professional goals.
With Geoff established – not to mention Mary, Jane and Stephen – and your goals set, you can now move onto step 3.
3. Identifying Topics of Interest
One of the keys to successful content marketing lies in thinking like the people you are marketing to.
Your business solution that you are attempting to market will have been designed to solve a problem or number of problems for other businesses. However, when these businesses go out in search for solutions like yours, the decision-makers will naturally have a number of questions that they want addressed.
Today is the day of the empowered consumer – no whether that consumer be a private individual or indeed a business. This means that when organisations are looking to invest in another company's services, they want to be able to head online and find out as much information for themselves as possible before picking up phone and talking to a sales representative.
And this is exactly where content marketing comes into play.
One of the most important objectives of content marketing strategies is to ensure that the most relevant content that answers all questions that prospects may have is made easily discoverable to those that search for it.
So, think like Geoff, Mary, Jane and Stephen. What questions might they have?
To give you some guidance, they will first want to know whether or not your solution will solve all of their pain-points. They will also want to know if you are an expert in the industry that you reside. And they will also be interested in what your existing clients have to say about you.
As such, your content strategy should include white papers that detail your solution. Blog posts that position you as an industry authority. And testimonials that provide the social proof that you really are as good as you say you are.
With this established, your job will be to conceive of relevant topics that your content will cover that draw users towards the answers to the questions that may have.
4. Create Your Content and Promote
Now you have arrived at the point where you can start creating your content.
Depending on your industry, you will need to decide what format this content should take with regards to drawing in your target audience. I have emphasised written content so far in this post – blogs, white papers, eBooks – and indeed this will be important, especially in terms of SEO (search engine optimisation).
However, it's important that you take into consideration the power of visual marketing – especially for those campaigns where your goal is to deliver brand lift and grow your audience.
Infographics, videos and SlideShares, therefore, should be on your list of content to be created.
With your content published, your next step will be promotion. This will largely take place on social media, though emails, influencer marketing, search engines, employee promotion and paid advertising will also be considered.
And here again is where documenting your tactics will prove beneficial. Recording your efforts will help you identify which content tactics yield the most favourable results across which promotional channels. And this, indeed, leads nicely onto the final element of your B2B content marketing strategy.
5. Analyse and Optimise
Content marketing is ongoing. Over time, your strategy will mature and become more effective in accordance with what you have learned from previous efforts.
This means that you need to analyse and document all successes and failures that you achieve, and from there you can use the data to optimise your future campaigns.
For instance, you may find that when targeting Geoff on LinkedIn, you actually caught the attention of Jane, and achieved more white paper downloads from the cohort she represents than expected.
Or, you may discover that you fell a long way short when trying to grow your Twitter audience. Is this because Mary and Stephen do not actually frequent Twitter, or was it that the content you promoted didn't appeal to them?
Indeed, you will very likely make such false assumptions. But this is not a problem – so long as you learn from it and adjust your strategy accordingly. Perhaps you should revisit your persona list and refine the details a little more, and from there draw up a new list of topics that would be of interest.
Whatever the problem is, so long as you have documented your strategy, you can rectify it.
Continue in this vein of experimentation, analysing and reanalysing your results, and from there optimise your future output.
The longer you do this, and indeed the more thoroughly you do it, the clearer the picture you will gain as to what an effective B2B content marketing strategy looks like for your business, and you will have the documentation to put it into effect.