metasfresh cloud ERP
Powerful, enjoyable and easy to use.

The next Generation of Open Source ERP User Experience

START NOW – For Free
metasfresh Cloud Vision
Within the last 20 years ERP systems have become a standard tool in the working environments of knowledge workers in companies.
At the same time their tool became more complex and more difficult to use as it was supposed to deal with any aspect of business planning, controlling and execution. This lead to todays situation where ERP users deal more with how to use the software tool than getting their job done.
ERP Software has not only to be powerful but also enjoyable and easy to use.
Coworkers are the most important part of business success. That is why we as metasfresh put the user into focus of everything we do.
We want the software to be adapted to the user and not the other way around. We want the user to love using our ERP software not because its serving the business interest but very much himself to get his work done. It should not make a difference what kind of computer skill level a user has or if he has worked with ERP software before. The only thing that should matter is that the interface is so intuitive he can easily use it.
User Dashboard
Targets and other important Indicators in your focus
Data is updated Just-In-Time as soon as operational Data changes
Only minimum typing: smart fields for fast data entry in wizards
High Performance indexing based on most powerful open source searchengine worldwide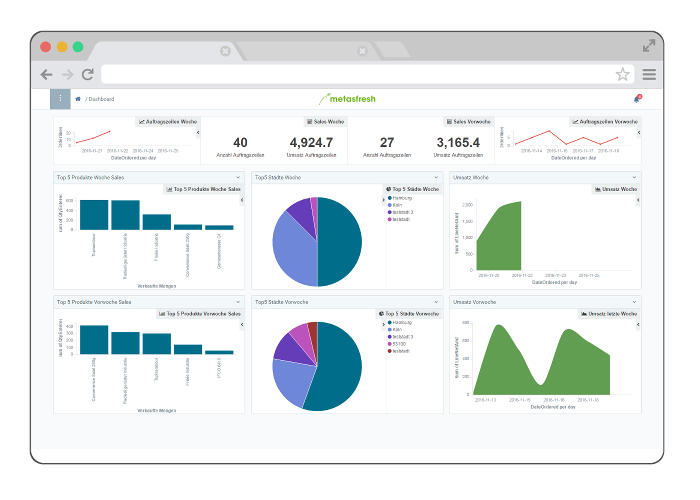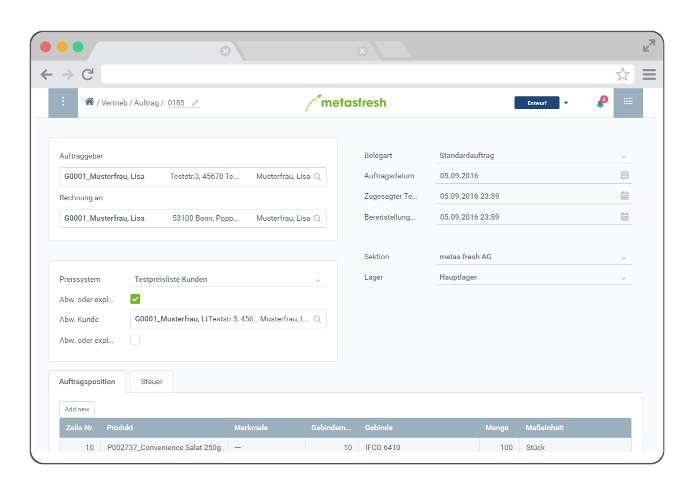 Window Design
See only what you need: just a few fields covering 80% of the cases.
See it when you need it: Access advanced fields with one click
Only minimum typing: smart fields for fast data entry in wizards
Focus clearly: menu elements are hidden
Forget the save button: Data is automatically saved
See the important: Document Status action highlighted
metasfresh cloud
User Experience Highlights
WebUI
A modern web user interface is showing you simple and understandable elements. Access it on any device with a modern browser.
---
Lightning Fast
Excellent user experience goes always with high perfomance. metasfresh is lightning fast on everything you do because it has got an optimized user navigation, caching, pagination, lazy loading and a backend API designed for huge amount of data.
---
Auto Data Loading
Just put a key value and metasfresh fills all fields automatically with the according parameters. This speeds up your data recording and improves its consistency.
---
---
Highlighting
In case you change a value which causes other field values to be changed automatically, metasfresh highlights those affected ones so you know intuitively which field dependencies exist.
NULLNULLNULLNULLNULL
Navigation
The navigation always shows you where you are and you can get to any feature with 1-2 clicks. In case you end up at the wrong place, just click back on your browser to go back.
---
Social
Collaboration boosts the efficiency of getting results. metasfresh supports that by allowing you to communicate directly within the ERP software. You can see your messages and tasks right at your personal inbox.
---
Auto Save
We killed the save button. Just do your work and metasfresh saves the results automatically without interrupting your flow.
---
---
Links
metasfresh comes with full link support. It allows you to share the link to a window, document or even a filtered and sorted view with others – as you can do with any other website.
Keys & Shortcuts
Use metasfresh entirely using your keyboard to get your job done quickly. To all those users who are not into using the keyboard – mouse support is also available.
---
Auto Complete
Benefit from an advanced auto complete feature which helps you finding the data you want to enter rapidly fast. Combine several search criteria to find your data and achieve higher data quality.
---
Auto Prompt
This one is a special highlight. You can use one single field to put data (e.g. partner) which prompts you automatically for further information which is related. Imagine putting a partner name in a sales order and metasfresh provides you a list of addresses for you to pick, followed by a list of contacts – all in one field and step.
Get started with metasfresh !
---
Register to receive your personal demo instance within minutes.
Frequently asked Questions
Whats the difference between metasfresh and metasfresh cloud?
metasfresh is our powerful ERP system for wholesale and producing midsize companies based on a client server architecture that demands it to be run on local network.
metasfresh cloud is delivering a state-of-the-art WebUI on top which allows it to be run on a cloud infrastructure accessible by all kinds of devices equipped with an uptodate browser.
---
Is it possible to to keep my data locally but still using the new WebUI?
Yes. You can use both the old and the new user interface in parallel – even in your company. So you can have one user group using the WebUI of metasfresh cloud and another group accessing the old java swing interface while your server is on your local network.
---
---
What do I have to do when I am already running metasfresh?
You can just continue to use metasfresh as you do. We will continue to develop metasfresh with the same intensity as you are used to and new features will be available in both versions. You can switch between metasfresh and metasfresh cloud anytime.
---
Does metasfresh cloud also have an Open Source license ?
Yes. metasfresh cloud is licensed under the Open Source license GPL v3, as all our work is. We love and live Open Source. Its the foundation of our culture and our business model. We do want to grant users of metasfresh ERP unrestricted rights and freedom they will not find in proprietary ERP systems.
---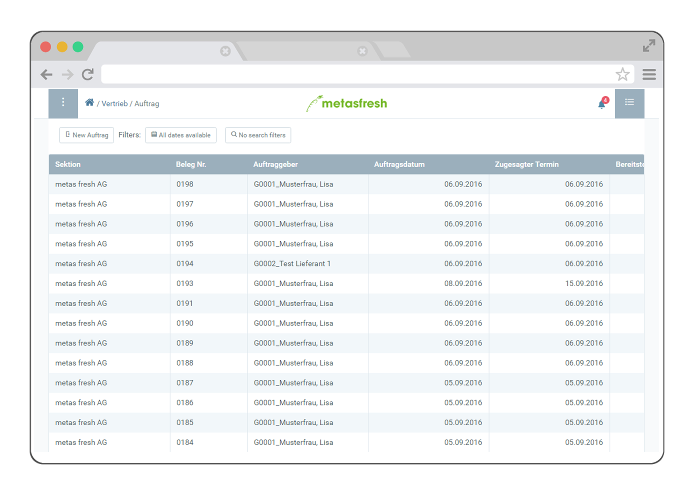 List Windows
see the bare minimum: only fields you need to identify are displayed
feel the speed: window is loaded before you can blink
Just Tap: One click and the record is opened
Sort and Order: click the grid header column to sort
master the data: powerful thus intuitive filter feature
metasfresh statistics of 2016*
Average per enterprise with metasfresh Live Version
---
Transactions executed per month